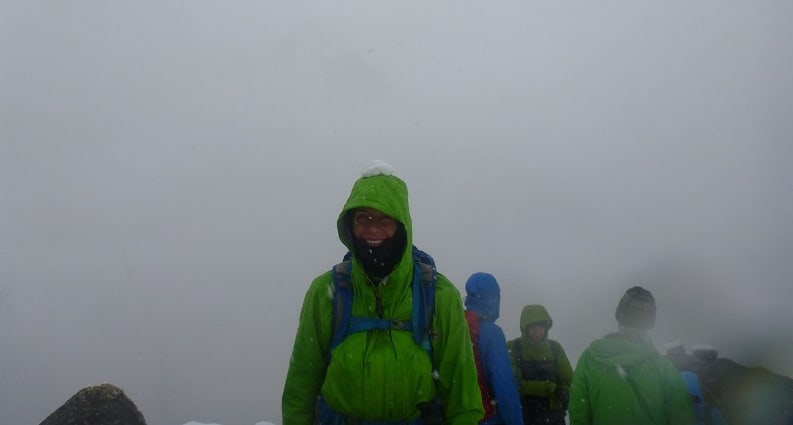 Julia Hubbel summited Kilimanjaro (the highest mountain in Africa) at age 60!
The next year she went on to complete the Inca Trail and the Everest Base Camp climb in Nepal (pictured above).
Since then, Julia has been all over the world, riding, kayaking, climbing, hiking, skydiving, paragliding, and exploring new cultures.
Not to mention she's also a prize-winning author (we'll talk about her book Wordfood in this episode) and has corporate experience as a director of training in Fortune 500 corporations.
Julia is no-nonsense when it comes to attitude and discipline. (Did I mention she's also ex-military?)
Her philosophy is: "Whatever you think, you're right."
We're excited to have Julia as our next podcast guest, and let me tell you: this is an episode that you don't wanna miss!
This episode is great on so many levels – if you listen to even a part of of it, you'll be inspired!
Here's a taste of what Tom and Julia get into:
How Julia is active and healthy at age 65

Why you OWE your gifts to the world

How to recognize when you've started "dying"

How to change

your

attitude and start accomplishing goals
Click below to listen:
Show notes:
Want a copy of Wordfood?
Click here to purchase a copy of Wordfood.
If you a placing an NEW order and would like a copy of Wordfood by Julia Hubbel, add the book to your order and use the code: WORDFOOD at checkout to get your copy free!
Chat with a LiveO2 Team Member today!

If you'd like to learn more about anti-aging with LiveO2 Adaptive Contrast, click here to set up a call with one of our team members.