Is EWOT Obsolete?
This 5 minute presentation introduces breathing technologies, EWOT, HBOT and explains the basics of how each works.
https://youtu.be/G-PuN8ziPeU
LiveO2 invented oxygen reservoir systems and the patented Adaptive Contrast. Oxygen makes the body work better many ways:
Increase Immune System Energy
Restore Blood Flow
Accelerate Recovery
Oxygen makes the body heals faster and better. A well oxygenated body stays healthy. A sick body that becomes well oxygenated – becomes healthy.
A healthy body doesn't need drugs or surgery. A sick body with enough oxygen often heals itself. That is how nature works.
LiveO2 delivers massive amounts of oxygen to your body from the inside out. To discover diseases that oxygen is known to help hyperbaric therapy research page.
LiveO2 is the original high volume oxygen system. It consists of a reservoir that stores about 15 minutes of oxygen connected to a mask.
Basic LiveO2 EWOT System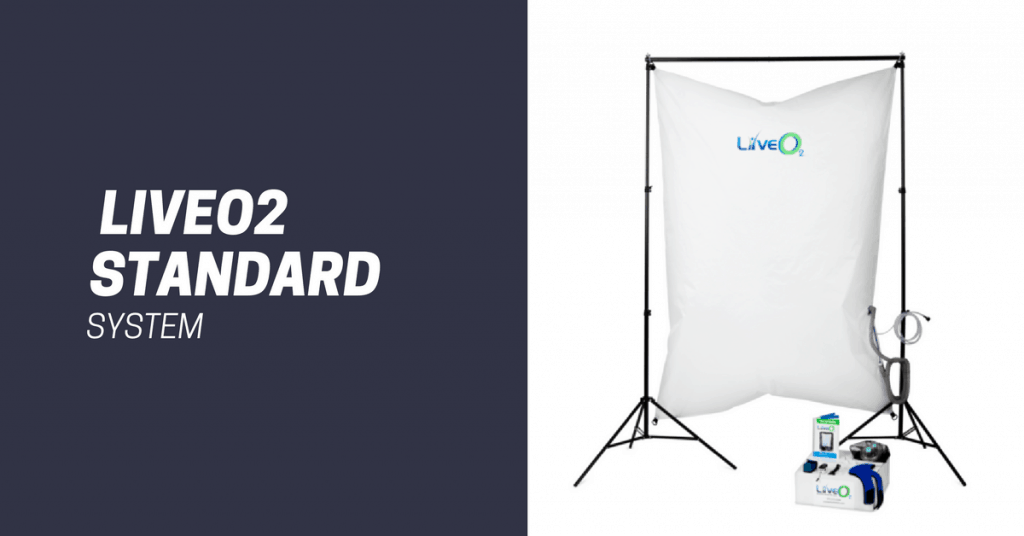 Lowest Cost
Reservoir and Mask
Air Separator Optional
Delivers Most Hyperbaric Benefits
Not suitable for Athletic Training
900L = About 15 min of Oxygen
Limited Brain Effects
Exercise Equipment not Included
Why is EWOT Limited?
Exercise with Oxygen Training is superior to Hyperbaric Therapy for able-bodied people.
https://youtu.be/1Xgq6LZCF04
Breathing oxygen- rich air enables the heart an lungs to be lazy.
Exercise activates the cardio-vascular system, but only a little. For comparison, an athlete capable of a pulse of 170, will only be able to reach a heart-rate of maybe 140 Beats Per Minute using a oxygen only system.
EWOT Obsolete?
LiveO2 uses low-oxygen air to trick the body into driving the oxygen deep into tissues. Users switch back and forth between low and high oxygen air. This is called Adaptive Contrast.
Adaptive Contrast makes EWOT obsolete:
Less time exercising to reach goals
More Complete Recovery
Faster Recovery
Recovery and Performance from one device
Adaptive Contrast vs Oxygen Only
A Basic Oxygen Protocol
LiveO2 invented oxygen training in 2008. This is the very first protocol we published for oxygen-only systems. It enables a first-time user to experience oxygen training for the first time.
We've come a long way since then, but we'll get to that later.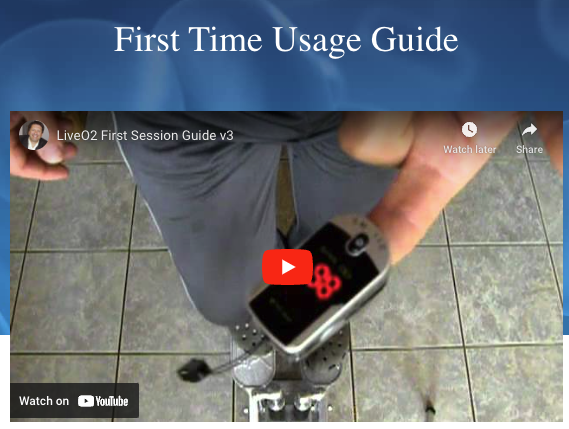 LiveO2 AC Protocols
Adaptive Contrast is a game changer.
The ability to use low-oxygen air enables engineered healing. The ability to direct and guide blood flow to different parts of the body create a next generation of healing system:
Brain, Stomach, Skin, and Spleen;
Drive detoxification by tissue turnover;
Expedite delivery of nutrients to tissues;
Amplify the effects of virtually any treatment or therapy.
The BrainO2 Protocol uses prolonged exertion breathing low-oxygen air to activate blood flow to the brain. The switch to high oxygen floods the brain with oxygen. This is not possible with oxygen-only systems. Normal people measure 5-15% smarter after this protocol.
This table shows how Adaptive Contrast enables many more protocols than oxygen only systems.
Click the table to view our protocol list fromLiveO2 Protocol Server: https://prime.liveo2.com Protocols and support are available to LiveO2 Adaptive Contrast System customers.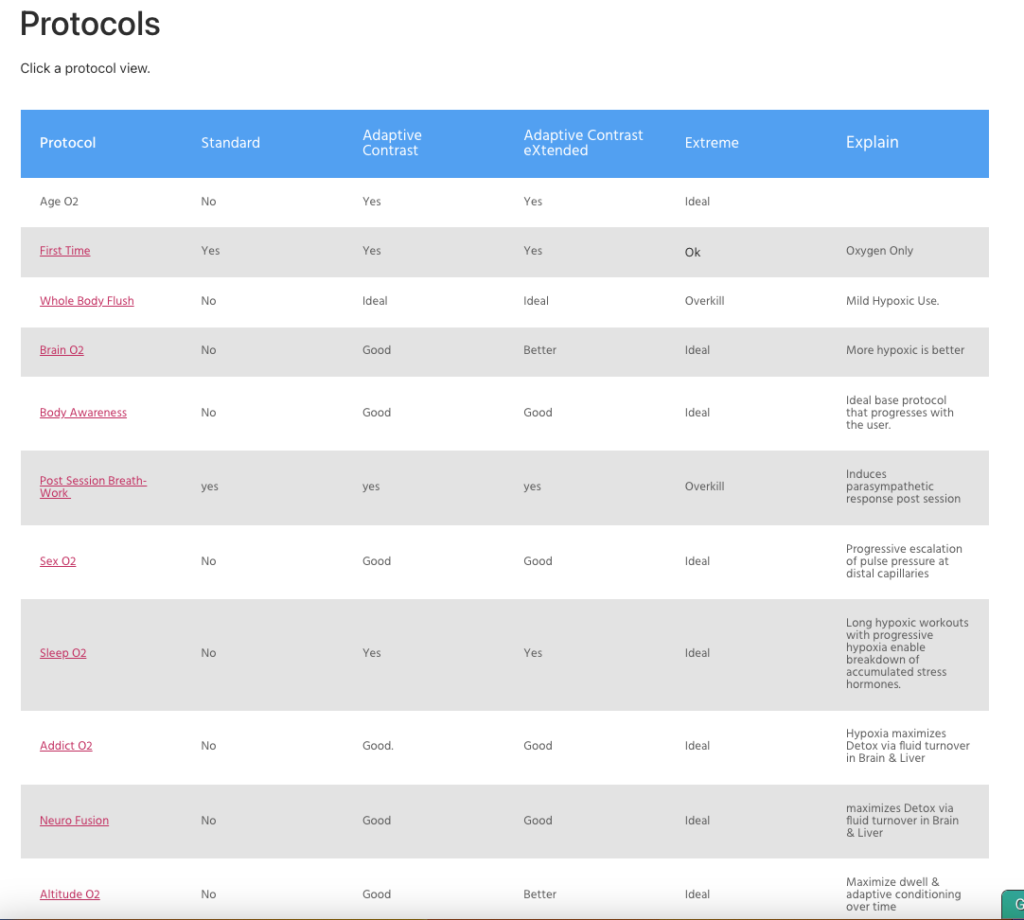 A Warriors Story
Steve Rodriguez is a former Special Forces warrior. LiveO2 changes lives for the better. We have many-many success stories like his.
His military career left him disabled. Six months of LiveO2 enabled Steve to heal and return a life of joy. He was pain-free in days.
https://www.youtube.com/embed/3GGsGOro74A
LiveO2 is Next Level

As illustrated in the above video, an oxygen shortage is essentially a "bottleneck" of your body's blood flow.
That's why we use the "plumbing" analogy…it visually represents what needs to happen to the bottleneck: a flush out.
This flush happens with super-oxygenated plasma, or a super-oxygenation event.
https://youtu.be/vI7M_YYygzA
LiveO2 Pays for Itself
Imagine working for a company that pays you to exercise and eat a good meal before starting work.
Doug Allen is the CEO of Vertical Turbine Systems in Lubbock Texas. VTS bottom line doubled when they implemented their in-house wellness system based on LiveO2.
Even if you work from home – LiveO2 will improve your health and your life.
https://youtu.be/e1cV9Gm7ldI
Peak performance in the workplace meant the whole company worked better. Good for employee. Good for employer.
Oxygen is good for you.
Dr. Ben Edwards, MD
We're not doctors and don't pretend to be.
At LiveO2, we've simply engineered a product based on science showing how oxygen training can be effective.
We've proven to many doctors and practitioners all over the world, that the LiveO2 system help everybody heal faster and stay more healthy than any other known device.
If you're interested in oxygen therapy for a medical condition, please refer to the LiveO2 list of Recommended Doctors. All of the practitioners listed have ample training in our system and can help introduce you to the system and build a protocol for treating your medical condition.
Here's what Dr. Ben Edwards of Veritas Medical has to say about using LiveO2 with his patients
https://youtu.be/Uqdn_D0rI3g
Exercise Less – Achieve More
Less time Exercising
Never be sore
In Shape Fast
LiveO2 Adaptive Contrast works better than EWOT. Remember – The biggest investment in EWOT is the time you will spend using it.
Most users abandon EWOT systems within weeks because they get bored. Remember – an EWOT system only holds 15 minutes of oxygen. Once that's gone, you're done.
LiveO2 supports our LiveO2 Standard oxygen-only system to provide an affordable oxygen trainer to people with health challenges.
After LiveO2 users achieve their health they transition to anti-aging, and finally athletic goals.
LiveO2 enables users to challenge themselves even more than regular exercise. The stronger they become the more the more LiveO2 .
LiveO2 a lifelong tool.
Questions?
However, if you have specific questions, concerns, or doubts regarding the LiveO2 system and how EWOT can work for your specific use case, please send us a message and a LiveO2 team member will get back to you!