LiveO2 has engineered two types of masks: our standard mask, and our premium mask for ultimate flow.
An effective mask kit is critical for achieving your desired results. You want a mask that has a comfortable fit, allows for high airflow rates, and has a long lifespan.
For most users, our premium mask kit is the best choice. If you are on a budget or have many people using your system you may want to consider our standard mask kit.
The Premium Mask Kit
The best EWOT mask for most users is the LiveO2 premium mask kit.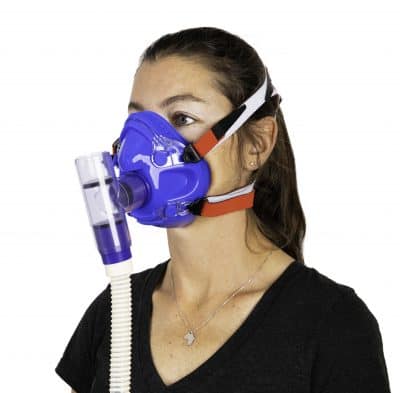 TThis new mask comes in four size options. It has a LiveO2 engineered Ultimate Flow Valve. This valve allows a flow rate of over 150 LPM (liters per minute). The valve is autoclave compatible.
Perfect fit
In addition to coming in four sizes, it also features four adjustable straps to make it easy to get the perfect fit every time.
Cost
The cost of the premium mask kit is higher than the standard mask, but the service life is over three years opposed to six months for the standard mask kit.
The total cost of the premium mask kit after three years is $240.
The total cost of the standard mask kit after three years (five replacements) is $450.
Features and benefits of the premium mask kit:
Ultra high-volume valve (designed to support peak inhalation/exhalation rates)

Secure face mask seal

Minimal airflow resistance

Comes in four sizes for small or large faces

3+ year service life

The premium mask kit is available for purchase by anyone. You can buy the premium mask online here.
Listen to the Premium Mask Podcast with our Product Engineer

Standard Mask Kit
The best option for facilities with more users.
The standard mask kit weighs and costs less to purchase. It is compatible with both our Adaptive Contrast and standard systems. Because of its lower cost it is a great fit for facilities that have many users.
These masks are ideal for use in demo environments where each user gets a fresh mask without having to wash and sterilize masks between users.
Silicon Body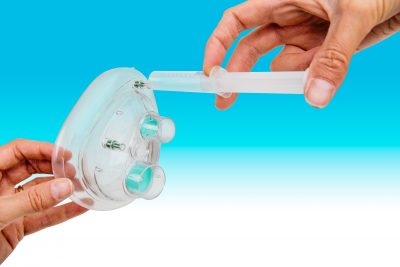 The standard mask also includes a silicone pillow that can be inflated or deflated with air using the syringe provided. Silicone allows for an airtight seal around the contours of your nose, cheeks and mouth.
Mask Strap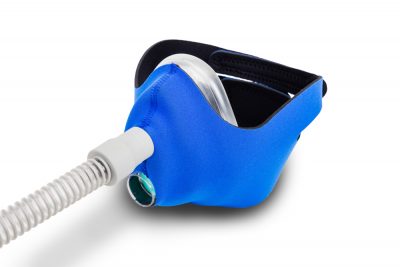 The mask is equipped with a comfortable neoprene strap. The strap also has two Velcro closures: one for the base and another for the crown of the head to ensure a secure fit. Unlike the premium mask, you need to adjust the strap every time you put on the mask.
Benefits of Resistance
A smaller opening creates a small resistance when drawing a breath. This resistance will actually benefit some users as it creates a mild exercise for respiratory muscles. A slight resistance also assists in the gas transfer in the lungs. You can learn more about the science behind breathing with resistance and why we do not use positive pressure here.
Features and Benefits of the Standard EWOT Mask Kit:
Lightweight

Affordable

30-day warranty, 6+ months typical lifespan – single user

Supports multi-user environments

Aids respiration efficiency with compromised users as airflow resistance

Assists gas transfer in the lungs

Creates mild exercise for the respiratory muscles
The Standard mask kit is available to anyone for purchase. You can buy the mask online here. If you have any questions you can call us 1-970–658-2789 or contact us here.

LiveO2 Mask FAQs
Can I share masks?
We recommend against "sharing" masks. Most people sweat and exhale saliva in their breath when they work out. This creates a film which must be removed by rinsing or washing with soap and water.
How do I clean my mask?
Our masks are easy to clean. You can wash them with hot water and soap in the sink after use. You can learn more about cleaning your mask here.
Do you offer discounts on bulk orders?
We do offer bulk discounts for large numbers. The discount is automatically applied on our store when you add multiple masks.
Does your system use positive pressure?
Some systems claim to be "positive pressure" systems. Our system uses Airflow Resistance to create better results. You can learn more about the science of airflow resistance here.
Do both masks work with all systems?
You can use both the premium and standard mask with any LiveO2 System.
What sizes do the masks come in?
The standard mask is one-size-fits-all. The premium mask comes in four sizes: extra-small, small, medium and large. You can download a sizing guide from the Premium Mask page on our store.
Can I use ozone to sterilize the masks?
Never use ozone to sterilize masks. Ozone is considered a respiratory toxin because ozone injures the lungs. It is not medically appropriate to use ozone to sanitize components used in breathing circuits.
Learn how to clean your mask here.