M
y name is Mark, and I was a super glue junkie for about 30 years. My foot cracks, aka heel fis­sures, caused pain with every step.
There had to be a real rea­son why the skin on my feet split, and it had to be more than just "dry skin."
Since I was 20, I super-glued the cracks. If I didn't, every step hurt.
I final­ly fig­ured out why busi­ness trips to sea lev­el healed my feet.
My feet hurt for a lot of days of my life. Heel fis­sures were a painful puz­zle. The pop­u­lar press on the top­ic was a biased and inac­tion­able mono­logue on dry skin and hygiene that always end­ed up with a mir­a­cle cream, or they told me I didn't wash my feet enough. Non­sense.
A great, near­ly life­long mys­tery,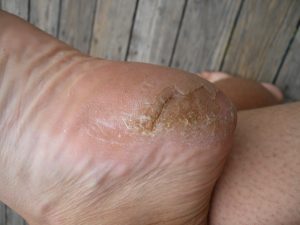 gov­erned the gri­mace of about one in four of the steps I took my whole life.
What caused my foot cracks? I could see they came and went—but why? They didn't seem to cor­re­late to any­thing I did or ate.
Diet didn't mat­ter much but stress events always seemed pre­cede cracks by a cou­ple of weeks. They were brought on work binges and life's nor­mal un-pleas­antries, etc.
Curi­ous­ly, the cracks would always heal after a nice vaca­tion. Anoth­er mys­tery.
I tried many creams and lots of scrub­bing but always end­ed up back in the bath­room with my tube of super-glue. I was a Cyano­acry­late junkie.
Things got strange when I took a trip to Cleve­land.
I had tak­en two oral Myers Cock­tails and spent about a week at low alti­tude. When I returned home, the cracks were all gone, replaced with nice, healthy, pink skin, under­neath the peel­ing sluff­ing cracked stuff.
What? Now this was inter­est­ing. I had final­ly observed a cor­re­la­tion that I could repro­duce. But why did the fis­sures go away?
What was real­ly the dif­fer­ence between Cleve­land and Col­orado?

Some say that Cleve­land is strange, but…

For me, the answer was easy… Alti­tude — I live at 7500 feet, which is about 1/3 less atmos­phere than in Cleve­land. My vis­it to Cleve­land was like spend­ing a week in a hyper­bar­ic cham­ber.
What did a Myer's Cock­tail Do? Easy… Oxy­gen trans­port nutri­ents and detox.
Whoa… Was this real­ly an oxy­gen prob­lem? So I looked close at my feet. Of course, my heels always had a red zone of inflam­ma­tion around them when I had the cracks. Now that was interesting—the red zone was also gone.
It start­ed to make sense. The skin on my feet that grew in response to hypox­ic inflam­ma­tion. Stress trig­gered inflam­ma­tion, that caused my skin to grow fast and thick with poor qual­i­ty. The poor skin cracked. When the cracks went deep, they hurt—and I reached for the super glue.
Inflam­ma­tion caused me to grow poor qual­i­ty skin on my feet. It was that sim­ple.
von Ardenne was right, again, and I had dis­cov­ered what I now call the cal­lus reflex—where stressed tis­sue pro­lif­er­ates a large quan­ti­ty of poor qual­i­ty cells. These poor qual­i­ty cells are the basis of foot cracks, and like­ly sus­pects in a wide range of degen­er­a­tive con­di­tions.
I am a lit­tle embar­rassed that it took me 30 years to fig­ure that one out.
I had been work­ing with oxy­gen sys­tems focus­ing on Man­fred von Ardenne's research at the time. It would be easy enough to sim­u­late oxy­gen-rich low alti­tude.
So, I returned to my nor­mal rou­tine of too much desk work, and sure enough about two weeks lat­er, my feet cracked again.
This time I was ready. I had set­up the first LiveO2 sys­tem. I let my feet crack enough to break out the super-glue. After the super glue, I hopped on the LiveO2 sys­tem for 15 min­utes. The next morn­ing, the red zone around my feet was gone, and the poor qual­i­ty skin erod­ed over the next sev­er­al days.
Prob­lem solved. My foot cracks have total­ly dis­ap­peared for about six months now. When I note the tell­tale red­ness on the bot­tom of my feet, it's time for anoth­er LiveO2 ses­sion. That fix­es it every time—along with a hand­ful of oth­er nag­ging issues in my hips, neck and back.
I have hap­py feet all the time now. And sad­ly, for the faith­ful man­u­fac­tur­ers of my 30 year vice, super glue only serves to repair house­hold items.
Find more infor­ma­tion on LiveO2 and LiveO2 Adap­tive Con­trast® at these links, or vis­it or store LiveO2 and Adap­tive Con­trast sys­tems are avail­able in our store.
Click here for more tech­ni­cal infor­ma­tion about how it works.